The unique wood pellets: Clean and fresh and extremely economical to use and healthy for cats and people alike!
The highly absorbent PeeWee pellets are made of compressed sawdust from Swedish spruce and pine. They are extremely economical to use: regularly throw away the sawdust in the bottom tray and refill the pellets in the top tray up to 2 cm. Depending on the number of cats and the size of the PeeWee box, one 9 kg bag of PeeWee wood pellets will last up to four months!
Please note: These properties are unique to the original PeeWee wood pellets, so no other wood pellets should be used in the PeeWee cat litter box system.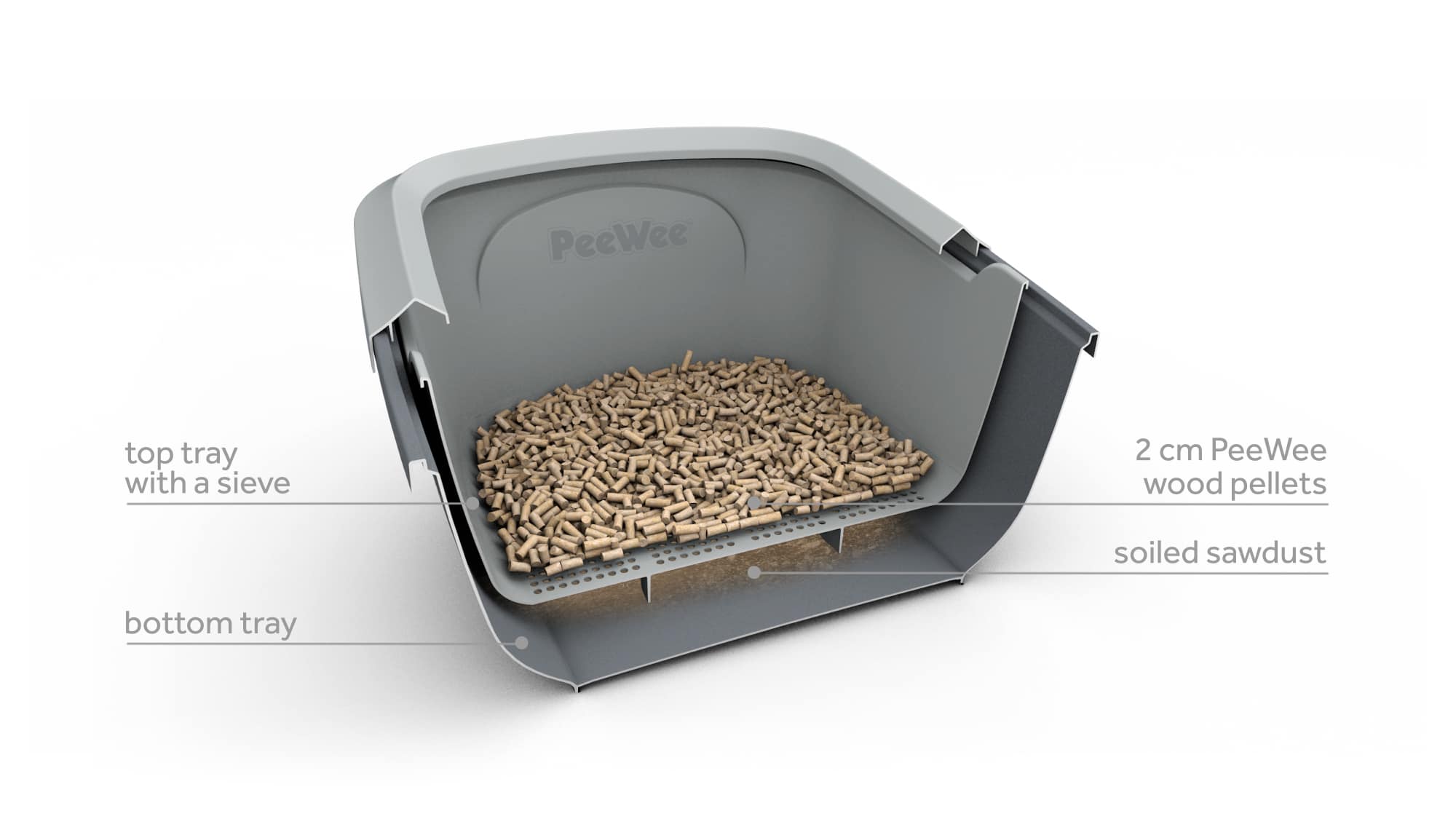 The PeeWee Cat Litter Box System
The extremely absorbent Swedish wood pellets and the patented double-layer litter box together ensure that unpleasant urine odours are a thing of the past. 90% of the cat urine drains through the sieve in the top tray into the bottom tray, and the remaining 10% is absorbed by the pellets in the top tray. These then decompose into sawdust and also fall into the bottom tray when the cat starts digging. The pellets in the top tray consequently stay clean and dry: there's no need to replace them, simply top them up and remove the poop using the scoop provided.
Litter boxes available in various models
Large cats, small cats, one cat or several, cats that prefer an open litter box or a closed one: PeeWee has a suitable litter box with patented double bottom for every cat. PeeWee litter boxes are also available in a range of colour combinations to match any interior!
Smoothie the Cat® prefers PeeWee
Finally, a litter box I approve of!
With an amazing 1.2 million followers, Smoothie the Cat is one of the most popular cats on Instagram worldwide. This British Longhair has been living with her owner in Eindhoven for years, and several times a week she shows her Instagram fans what she's been getting up to. And of course, 'The most photogenic cat in the world' with her green eyes and beautiful fluffy fur deserves the very best litter box in the world: PeeWee!